I haven't fully checked out this page but I do find the information here very interesting. So for now I will post part of it and continue as I study through it all.
http://www.beholdthebeast.com/islam__quran_and_666.htm

Revelation 13:18 Here is wisdom. Let him that hath understanding count the number of the beast:

for it is the number of a man;

and his number [is] Six hundred threescore [and] six.
On the Zola Levitt program, Walid Shoebat, a former PLO terrorist now Christian evangelist, said that when he saw the Greek symbol that is translated in the Bible as 666, he immediately read it as the Arabic character "Bismillah" (some spell Bismilla) which means "in the name of Allah." (Though it looks more like the character for "Allah").
Below (left) are photos of

Greek symbols translated in the Bible as 666

,

from

Free Jesus.net:

The

gold symbol

(bottom and right)

is Arabic for "Allah"

when turned and mirrored

. Additionally,

crossed swords

are a symbol for Islam.

So in 666 we may find symbols for both "Islam" and "Allah".
If Shoebat's account seems a stretch, even though Arabic was his first language and Islam the religion he was indoctrinated into, consider how this

Arabic character is stylized

into many different artistic forms. Consider also how some look for this character in trees, clouds and virtually everywhere, as

this search link attests -

even

in a fish!
Can you make out the word in the picture below?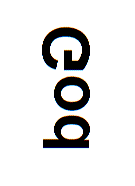 "This Quran is the 666"
"The number 666 is highly publicized all over the world and it is associated with evil and danger.
However, it is not what it seems. It was a Satanic trick.
The trick was to prevent the people approaching the 666.
Satan knew that the 666 is the book of GOD and the people should be kept away from it.
According to his plan, he placed a bad image to the number 666."
"The truth is that This Quran is the 666 , The Book from The Lord of the Universe."
"The First Sura in the Quran, 666, is Praise. This sura is the gift of GOD to us to establish Contact with Him through our daily Contact Prayers. "
"GOD made His Messenger a witness with the letter Qaf and the number 666."